Uni Pay 1/3rd Card Review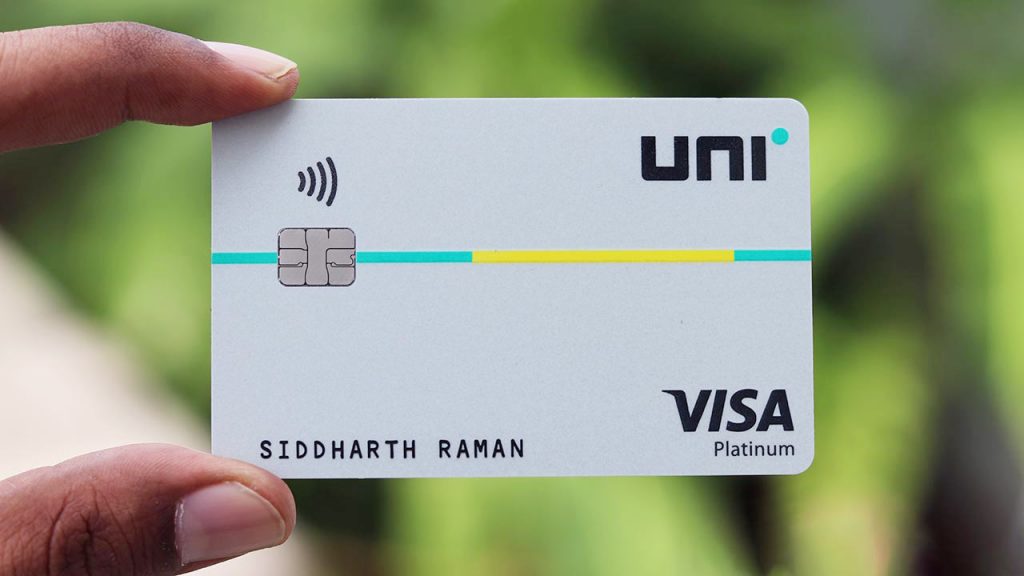 Uni Cards that raised $18.5 million in funding has recently come up with their Uni Pay 1/3rd card as their first offering in an attempt to improve the user experience in credit card industry. Here's everything you need to know about the Uni Pay 1/3rd card,
Overview
| | |
| --- | --- |
| Type | Buy Now Pay Later Card |
| Reward Rate | 1% |
| Annual Fee | Nil |
| Best for | Dining offers & split payments |
| USP | Customer Support |
Uni Card is one of best new-age cards that's circling in the cards industry.
While there are countless options in this segment, I would any day prefer Uni Card among others because of the customer support and offers that includes but not limited to dinings offers & spend linked offers like the Grand Uni Carnival.
What's Uni Pay 1/3rd Card?
Uni Pay 1/3rd card is technically NOT a credit card even though it works largely similar to a typical credit card on the surface. Its basically a PayLater card (or) Pay 1/3rd card, meaning, you can spend 30,000 INR this month and pay 10,000 INR a month for next 3 months without any interest/fee.
The tech layer is quite interesting as it uses:
RBL/SBM bank's Prepaid card system on the surface that gives access to Visa
NBFC partner (LiquiLoans) that gives access to the credit line.
So ideally speaking its a domestic prepaid card and so you cannot use it for international transactions or cash withdrawals and may also have problems in loading wallets, as RBI rules prevent that to happen, which however is expected to be cleared in few months.
Here's a nice and short video by Uni Cards which reminds me of the movie: 47 Ronin.
Fees & Charges
| | |
| --- | --- |
| Joining Fee | Nil |
| Renewal/Annual Fee | Nil |
| Interest on revolving amount | Late fees only, as per the slab |
It's ideally a Lifetime Free card (for now) and comes with a decent late fee slab system (instead of daily interest).
Rewards
1% Cashback to card (if paid in full)
The system splits "each payment" into 3 parts by default, but you can however choose to pay in full and enjoy 1% cashback.
The cashback system is super simple as you can choose the transaction you want to pay in full in few taps and it instantly adjusts the cashback to unbilled stmt, just like below.
It's definitely a good experience, however 1% is indeed bit low even for entry-level cards as we've cards that gives 2% cashback these days.
That said, Unicards does mention that they're working on a rewards system that allows you to earn Uni Coins along with a Uni Store that gives 5X rewards (maybe like HDFC smartbuy).
Design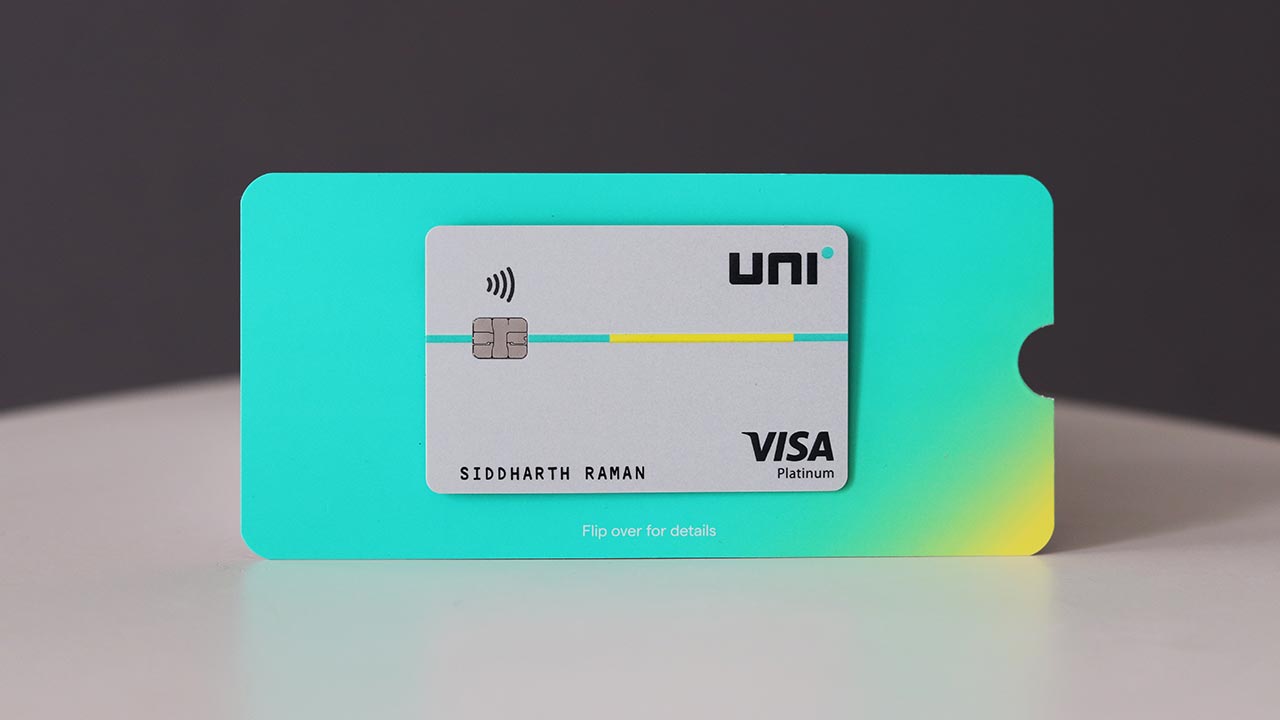 Uni Card comes with a neat and clean design with name on the front and card details at the back, just like most other modern premium cards issued these days.
The card comes in a mild grey/silver colour that looks decent.
Credit Limit
One of the most important aspect of an entry-level card is the credit limit, as most card issuers give a relatively low limit especially when its the first card with the bank.
Uni however states that they can issue cards with credit limits ranging from 20,000 INR to 6 Lakhs which sounds promising.
That's good for an entry-level card and my credit limit was somewhere in the mid.
Credit Limit Enhancement request can be sent after 6 months of card issuance.
Unboxing
The card comes in a neat and well designed box that gives a very good premium feel. Initial impressions were like unboxing an iPhone instead of a card, great work on that!
The box comes with:
The Uni Card
A Toblerone chocolate (Yeah!)
A Mask (good quality)
A personalised baggage tag (looks beautiful)
Here are some pics: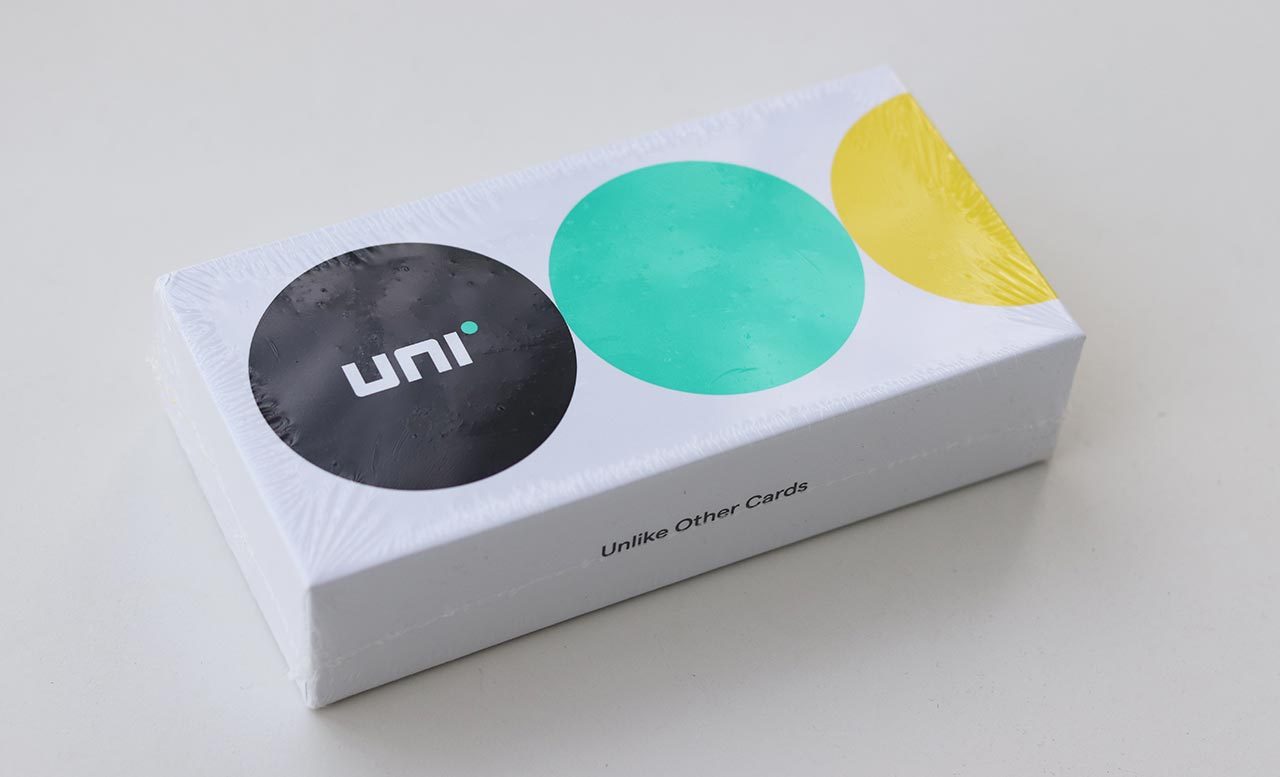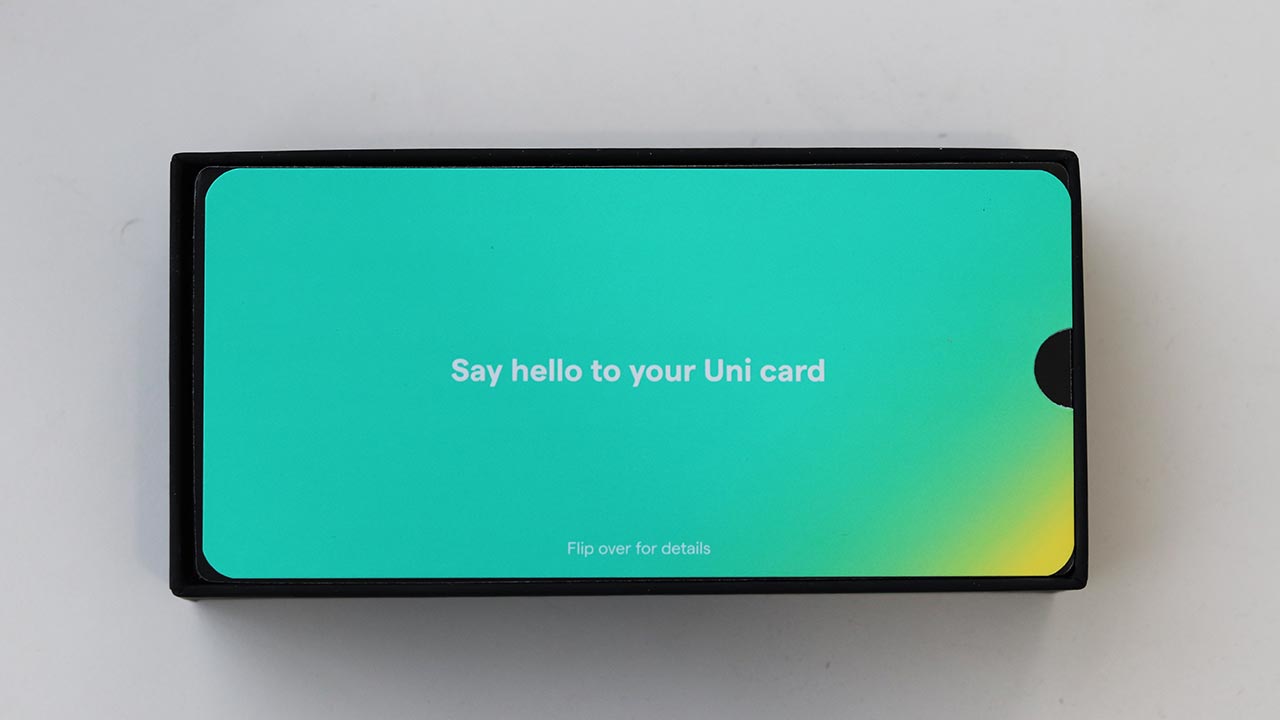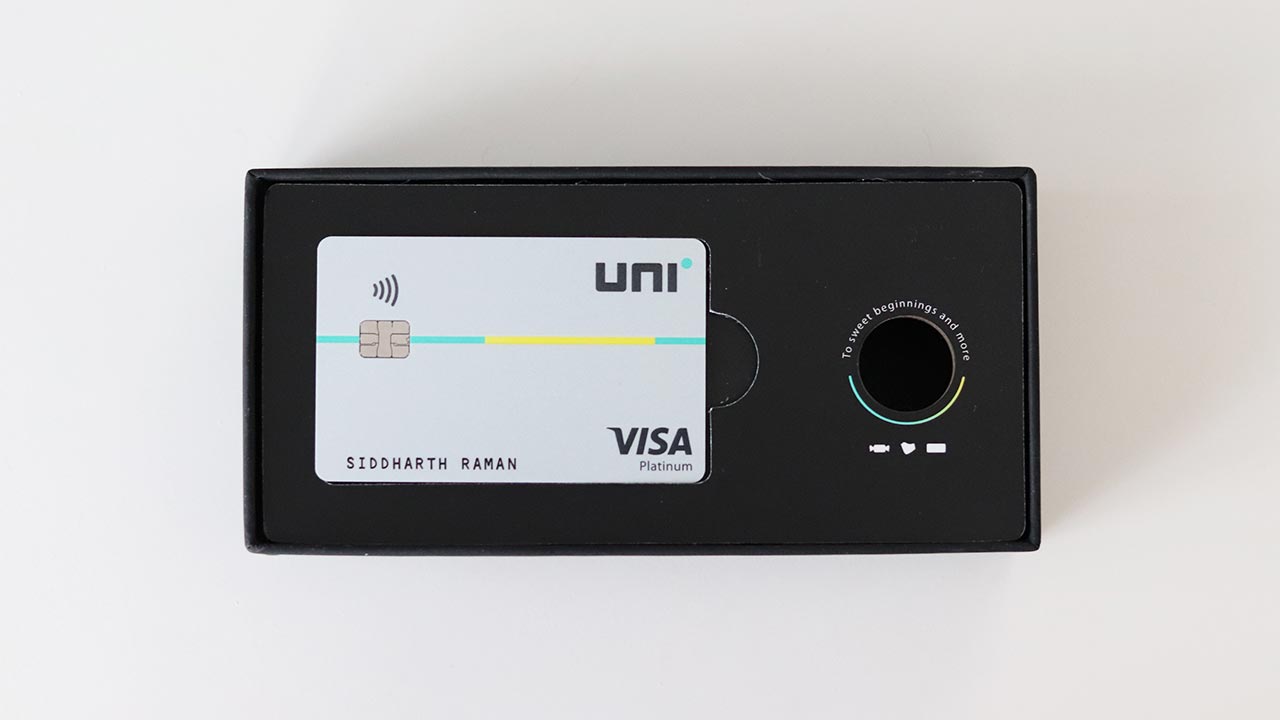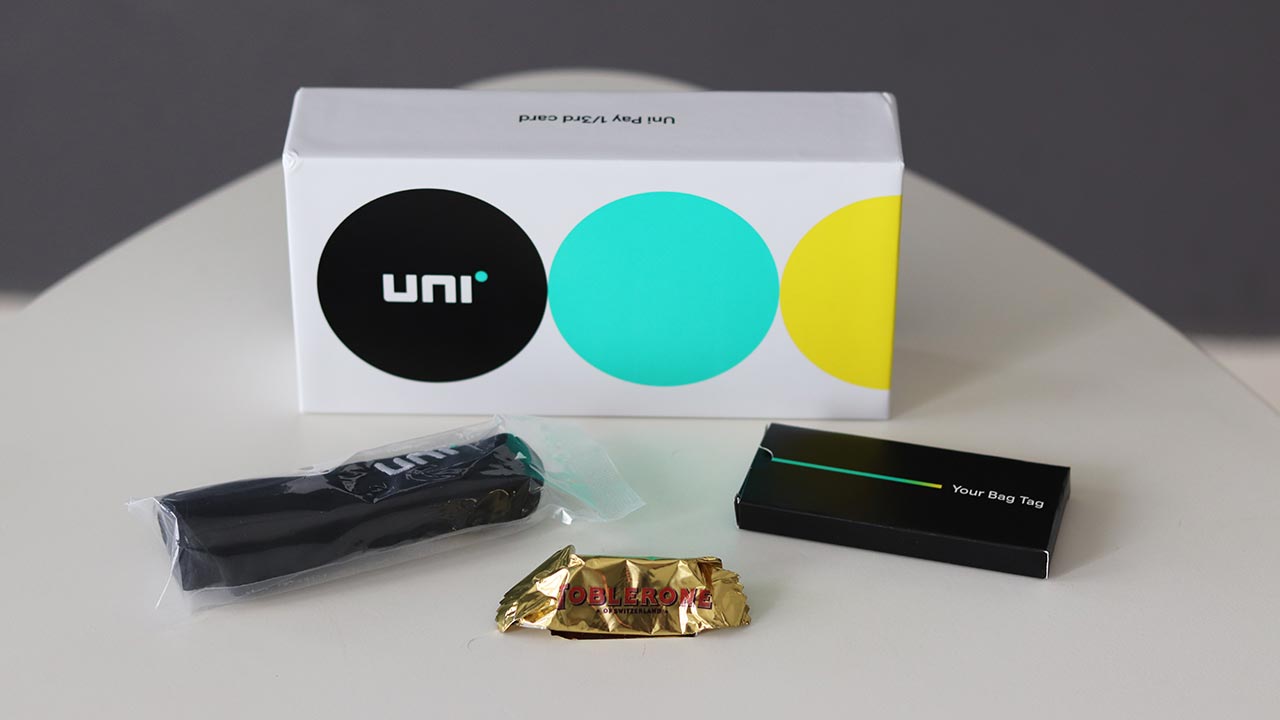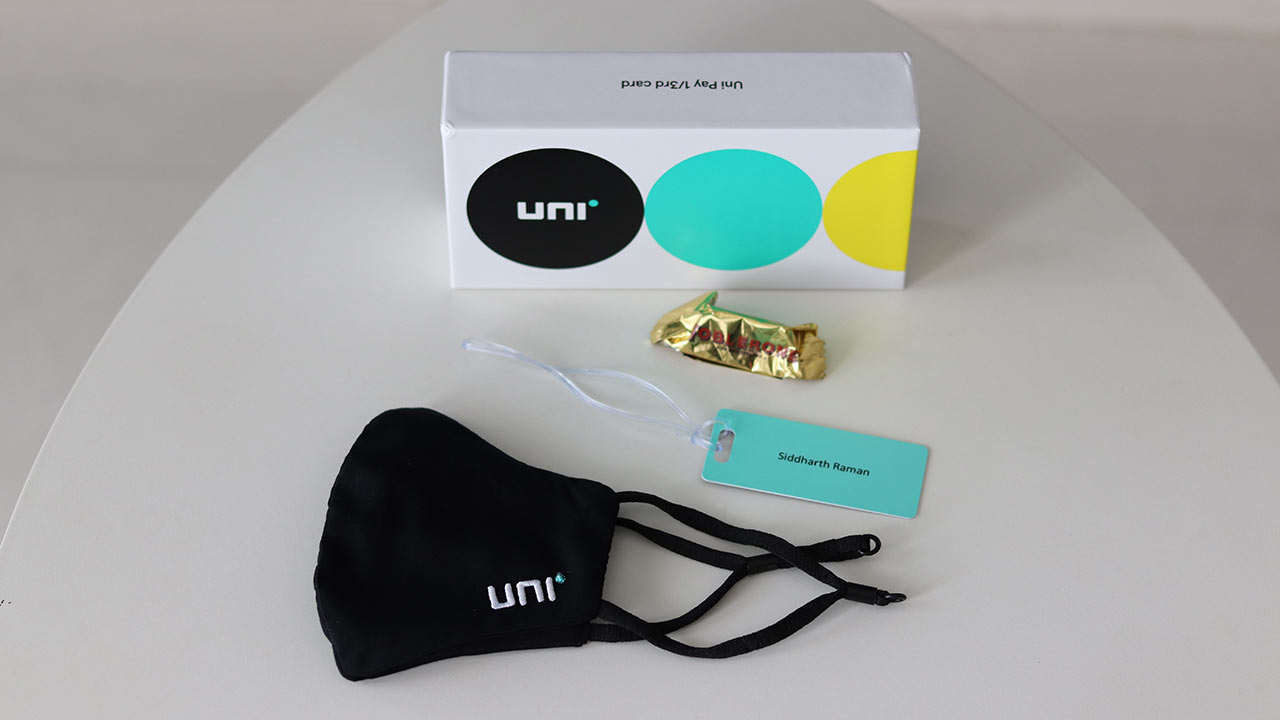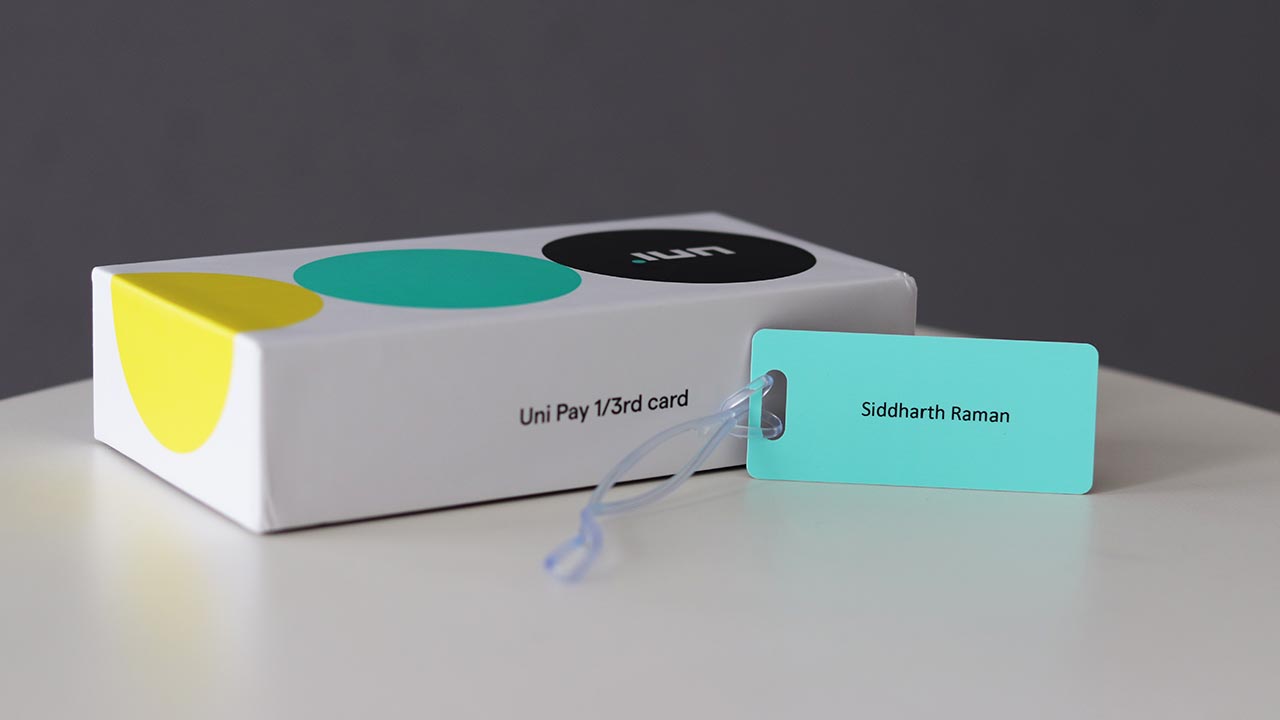 Support
Yet another important aspect when it comes to entry-level cards is the customer support, which is almost non-existent in the industry because of the volume.
However, Uni Cards comes with an excellent customer support.
For ex, as soon as I showed interest for the card on website I got an email from someone in the team to which I replied (asking about IOS support, which is now available) and got a callback in under 30 mins. Mind blowing!
Was also able to follow up on the same via WhatsApp support. That was a good experience.
Should you get Uni Card?
As always, it depends on your profile and the needs. To sum up, You get the following benefits with the Uni card:
Lifetime Free Card
Freebies: Mask+Chocolate+baggage tag
Cashback: 1% cashback on all spends – useful if your other cards don't give rewards/cb on certain txns
Pay Later: Its like 0% EMI card for 3 months – very useful on high value / emergency spends.
Offers: Zomato pro for 3 months – we may have more such offers in future.
Except for the rewards, it scores well in most other aspects. If you're new to credit cards, it makes a lot of sense to hold one.
How to Apply?
The application process is super simple. Just download the app and follow the process. It hardly takes ~5 minutes (or) less to complete.
They authenticate your identity via Aadhaar and a selfie.
The app uses CRIF to check the eligibility, but once you proceed further and apply it likely uses both CRIF & CIBIL reports together for under-writing, as I could see an enquiry on CIBIL via the NBFC partner (marked as NDXP, which is actually LiquiLoans).
Your virtual card will be instantly generated and ready for use as soon as you complete the application process. Just make sure you turn on "online transactions" via app before going with your test charge.
The physical card reaches in approx 3-5 days via Delhivery and the good news is that you can choose your delivery address, just incase if its not the same as on Aadhaar – pretty useful feature.
Note: The card currently ships to select cities (~36 cities for now) and is expanding its footprint rapidly.
Final Thoughts
Cardexpert Rating: 4/5 (in this segment)
Overall the Uni Pay 1/3rd card comes with a good onboarding experience, premium welcome kit, good credit limit, decent rewards and a great support system. However, if you're into premium cards and just looking for "rewards" then this may not look attractive to you.
Uni Pay 1/3rd Card is certainly UNIque and overall gives a very good experience for someone who's new to the world of credit cards.
That said, I would be highly interested in seeing a premium credit card from Uni Cards – perhaps a black card with a black chocolate.
Have you applied for the Uni Pay 1/3rd Card? Feel free to share your experience in the comments below.